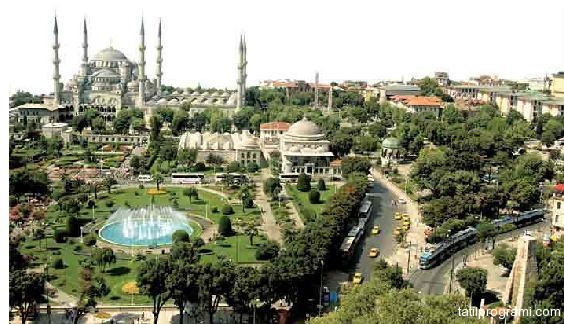 The tour starts with pick up from your hotel (Old City and Taksim areas provided with complimentary pick-up service) at around 08:30 and finishes at around 12:30. We will start with Roman Hippodrome (the site of ancient races, games and riots). It was also used for similar purposes during the Ottoman Era. Today, you can observe some of the historic monuments at site including Serpentine Column, Egyptian Obelisk and German Fountain). After that we will continue with Blue Mosque. Blue Mosque (Sultan Ahmet Mosque), a unique example of Ottoman architecture. The inside walls of the Mosque are decorated with beautiful Turkish Tiles. Million Stone (an ancient monument partially remained today. It is situated right at the centre of the city to show the directions to East and West.And then continue to St.Sophia Museum (Holy Wisdom Church built on 537 as the Cathedral of East Roman Empire. Today, it is a museum where the remains belonging to Christianity and Islam are visible together. It is currently listed on World Heritage Sites List. The tour ends with a visit to Grand Bazaar. (One of the largest and oldest covered markets in the world. You will have the set menu lunch including local food which is included in the tour price. (Drinks are self payment) In the afternoon, you will visit Topkapi Palace (former residance of Ottoman Sultans and today is a museum including the sections of Treasury, Sacred Relics, Sultan Pavilions and Harem), after that you will visit Sultan Tombs of 17th and 18th centuries. The tour finishes at around 17:30 witha drop off to your hotel.
The price is 70 EUR per person for cash payments, including the entrance fees to the sites visited (except Harem - 20 TL extra self-payment), guidance in English and complimentary hotel pick-up.
**Sultan Tombs are closed on Mondays and replaced with Litle Hagia Sophia
**Topkapi Palace is closed on Tuesdays tour will not run
**Grand Bazaar is closed on Sundays and Eid Holidays.--Replaced with Handcraft Store
**Blue Mosque is closed for Friday Pray and will be no replacement
**St. Sophia Museum is closed on Mondays
** Please note that there might be an extra fee for the hotels beyond central locations. The extra fee will be informed in advance.
**In case of low number of attendants ,we might run the tour through the our partner agency (another local supplier)
The price is 60 EUR per person for cash payments, including entrance fees to the sites visited (except Harem section), guidance in English,lunch and return hotel transfers.
**For credit card payments, an extra 8% surcharge will be applied.